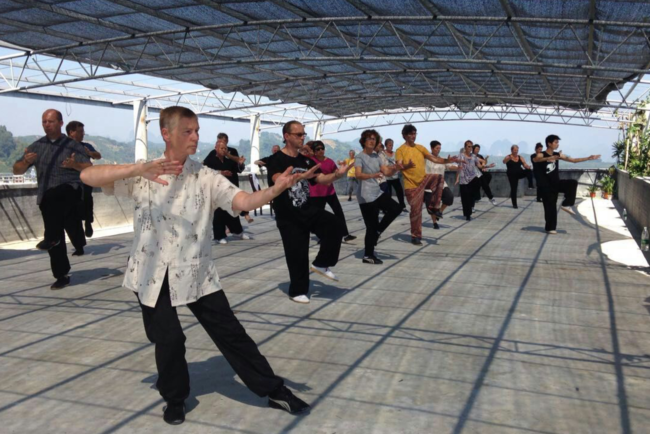 It is has been a while since we last posted here but it's been busy, so we thought we would share with you some testimonials from recent guests at the school.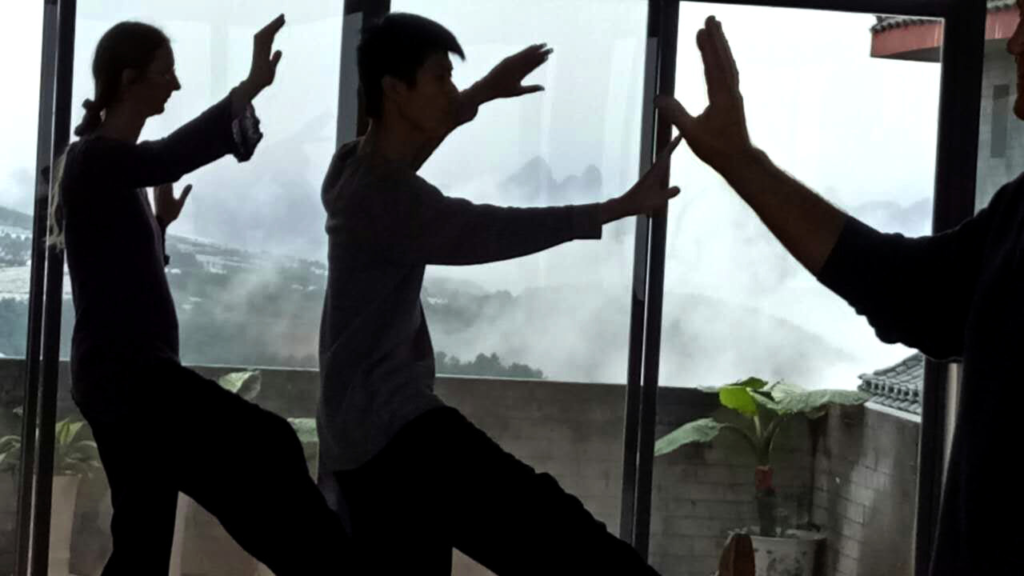 From Anka:
PLS, be patient.
I am about to talk about the place that I love much more than any others I have ever stayed in and afraid that I may ruin this review with my good intentions. The place is unreal!
It IS a Hotel, but not really. It is actually a Tai Chi School, run by the most wonderful woman on this planet. Mei.
And of course you can stay there for a day or two and just enjoy the picturesque views, as the place is situated @ the top of the mountain, about 15 minutes Taxi drive from beautiful Yangshuo (Guangxi Province). The residence is surrounded by fruit orchards. Stunning sunrises are never the same twice, views to die for.
IT IS A SCHOOL! Most of the visitors are hard core Tai Chi devotees, but everybody is welcome. The whole place runs on tolerance system: you are who you are and do what you do when you want to. Rooms > 5 STAR Hotel quality at ? price. You need to ask for them to be cleaned and it is done pronto. Food is also fantastic! Vegetarian, but you will get served dead animals if you ask for them. I am NOT a vegetarian myself. I have spent almost 4 weeks there and never craved for blood. Whatever they feed you is simply too good. And you learn a lot about your body and soul if so inclined. I could go on for ever, but aware of my limited space here.
So: Google > LONG TOU SHAN TAI CHI SCHOOL. longtoutaichi@outlook. com and start planning your China trip. The best place on this planet. An experience you will never forget.
Anka
Sydney, Australia
From Zan:
In this modern times latest discoveries of quantum physics are explaining us that everything on this universe (including universe itself) is energy. Not only the humans, animals, plants, stone, water or air. Latest discoveries show us that words or even just thoughts are nothing but fields of energies. Ancient civilizations knew about this long ago, and they were paying attention to the most important fact: how to connect your energy to endless universal energy, and not to be isolated from it, but to become one with universe!!!
Fortunately for us they left this knowledge to certain people and they were passing it from generation to generation… All our lives we felt like something is missing, that we are not complete and even we have everything we felt deep down that we have nothing. When we reached critical point in our lives, and after we explored all possibilities, but nothing helped, we finally came to these keepers of ancient knowledge. They are the ones who teach us how to reconnect to universal energy, how to be again there where we always belonged!! One of those teachers are Mei and her son Dazhu. I'm not going to speak about their huge knowledge and simplicity of transferring that knowledge to you, I will say only this: consider yourself very lucky to be at this place. Of course to receive their knowledge you need to be open-minded, and very patient, otherwise despite their knowledge doors of the universe for you will remain closed forever! After almost two months of being here I can say that power of Tai Chi is endless, but to get to that point you need to enjoy Chi Gong every morning!!
Thank you Mei, thank you Dazhu, and thanks to all other members of their family on great hospitality. It was my privilege to be here among these people and embrace their knowledge.
Zan Duras
Dubrovnik, Croatia, 6 March 2016
From Nathan:
I'm two weeks in, to a one month stay here at Long Tou Shan, and so far, it has been a very rewarding experience. Mei, Tom and the staff have been very accommodating with all my unusual requests, and my room is better than most in 5 star hotels. I've rented a great mountain bike for touring into the groovy town of Yangshuo, which gives me the perfect balance of country and city life.  I previously studied 6 weeks of Chi Kung in Thailand, but Mei's teaching is at a whole different level! I highly recommend Long Tou Shan to anyone looking to get a solid foundation in the practice, or to those more experienced practitioners, looking to refine their skills.
Nathan Krahn
Saskatchewan, Canada
From Moran:
Dear Mei, Tom, and all the wonderful family,
I just want to say THANK YOU! Thank you for the amazing welcoming, thank you for the SUPER professional Tai Chi and Qi Gong lessons, thank you for being patient with me in lessons, thank you for the amazing meals, thank you for the wonderful and lovely clean room and most of all thank you for being such a nice and kind people.
Coming to Long Tou Shan Tai Chi School was definitely an amazing experience. The school sitting on a hill in a little village next to Yangshuo. The panoramic view from here is absolutely gorgeous! Way more beautiful than Yangshuo if you are asking me. Thank you for everything and I will definitely be back!
Moran
Israel
Why don't you come visit us and see if you agree with our students?  Hope to see you soon!
This entry was posted on Monday, December 12th, 2016 at 11:42 pm
You can follow any responses to this entry through the RSS 2.0 feed.
Posted in: Student Testimonials