Accommodation at the Long Tou Shan Tai Chi School
HOTEL FACILITIES
Long Tou Shan school has comfortable and clean, single, double or dorm rooms available for students. Rooms include air conditioning, free Wi-fi, a work desk, electric water kettle for tea or coffee, and a beautifully designed bathroom with hot shower that includes hairdryer among its amenities., All rooms have panoramic views of the mountains and Li River, and offer a chance to breathe fresh country air.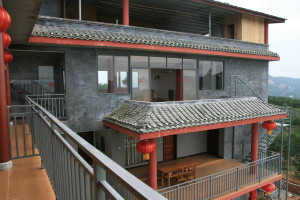 The school uses two training areas for the classes and the student's personal practice: one is a large indoor, wood-floored and climate-controlled room with picture windows looking out to the mountains for contemplation, and the other is the whole shaded roof of the building, for natural cool breezes and the freshest air. Practicing Tai Chi & Qigong in any of the two training areas is a delight, with the mountain breeze and the stunning views.
FOOD
All students receive a delicious and healthy breakfast, lunch and dinner every day of the week. All food is home cooked, Chinese-style, and we eat together. Food is typically vegetarian, including all the local ingredients such as tofu, broccoli, green vegetables, carrots, bean sprouts, eggs, tomatoes, and the like, with occasional meat dishes depending on students' needs. And of course there is always rice! At every meal there are many dishes on our big round table to sample from. Our students usually love the food at Long Tou Shan and it is prepared with the traditional balance of food properties that is customary in China.
 
SERVICES
The school offers free Wi-fi internet access to students, use of the tai chi areas any time, and travel advice.  We can help you make arrangements to go to and from Yangshuo and can arrange taxis to Guilin train stations and the airport.
Yangshuo, the nearby town offers a full range of banking and postal services as well as Chinese and Western-style restaurants, bars, tea & coffee shops, an interesting park, a local produce market, and more.