About Long Tou Shan Tai Chi School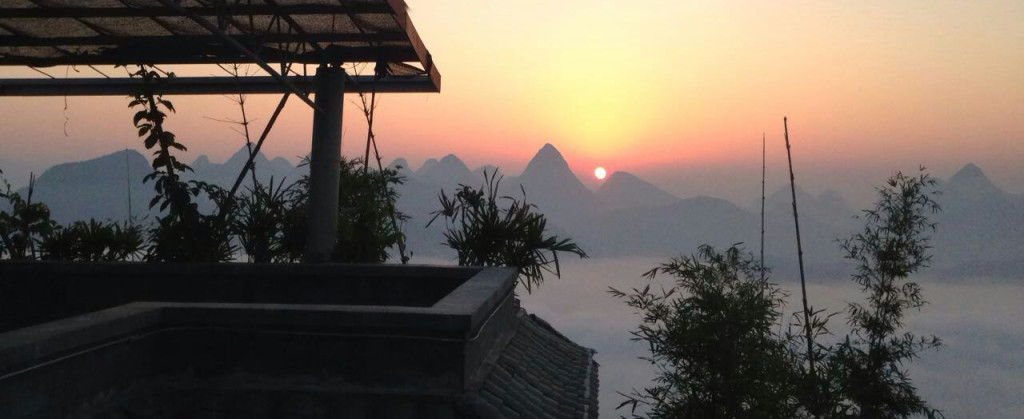 Welcome to Long Tou Shan Tai Chi School!
We hope you will join us and feel the deep satisfaction of learning traditional Chinese martial arts at our school.
Long Tou Shan Tai Chi School, located in the legendary beauty spot of Yangshuo in southern China, was founded in 2006 as a place for students to practice and develop a greater appreciation of Tai Chi (taijiquan in Mandarin) and Qigong, improve their health and well-being while enjoying the special beauty and tradition of south China and the famed Li and Yulong Rivers scenic area.
The school was founded by Master Luo Mei Juan (known as Mei), a 7th Duan Master of the Chinese Wushu Association, and now also features instruction by Master Zhou Da Zhu (Mei's son, carrying on the family tradition).

Long Tou Shan Tai Chi School offers:
Certified masters with many years of experience both teaching and practicing Tai Chi (both Chen and Yang styles) for fluidity, balance and coordination Qigong for energy flow, relaxation and rooting
Emphasis on both the health and well-being aspects of Tai Chi are offered alongside the practice of the martial arts applications.
Comfortable, clean and lovely rooms with hot showers, A/C and free Wi-fi.
Healthy, delicious food, mostly non-dairy vegetarian to vegan (with some raw options).
A beautiful, natural environment surrounded by orchards and overlooking the world-renowned Li River in the heart of traditional China.
A glorious location in the rural countryside, with the town of Yangshuo not far away for those who seek shopping, cafes and bars, and services such as post office and banks.
The school welcomes all students and practitioners, no matter what age, physical condition or level of experience.

Food preparation is a hallmark at Long Tou Shan Tai Chi School.  Traditionally, many Qigong and Taijiquan schools in China have provided flavoursome but sometimes too oily meals to their students. Only rarely have schools like ours incorporated a lower fat vegetarian menu, also excluding dairy products (except eggs if desired). As we know since Dr Colin Campbell's publication of the world-renowned China Study such a diet lays the foundation for a long and healthy life.
We are the first taiji retreat centre in China offering a distinctly energising and yet delicious diet helping you to reach and stabilise your ideal weight while providing absolutely all nutrients your body needs. Its main characteristics are:
well-balanced
whole-food, plant-based
detoxifying
enzyme-rich
organic, wherever possible (increasing content of self-grown herbs, vegetables and fruits)
fresh, high quality ingredients.
contains superfoods (e.g. chia seeds, goji berries, raw cacao, chlorella, spirulina, hemp protein, …)
usage of specially filtered and energised water
usage of natural probiotics
100% MSG free (even our soy sauce is free of MSG)
In addition to our variety of Chinese meals, we serve Western style dishes or delightful fusion blends.
Plans for the future include individualised food plans taking your special dietary needs into consideration.
The latest additions to our standard food plan are green smoothies, fresh salads and yummy coconut desserts. Of course that's not the end of the story: There is much, much more to come.